Jaipur, 20 August, 2018: The first pure Skill University BSDU today hosted Carpentry Skill Competition in joinery trade in association with NSDC and Furniture & Fittings Skill Council (FFSC)where winners from three different Zonesnamely West, North and Southparticipated.   Remarkable to note that India is participating as guest competitor in eight trades in Euroskills 2018.  Euroskills which is also called Skills Olympics of Europe, is the European championship of young professionals, a spectacular promotion of skills and latest skills developments around Europe which happens once every two years.  There are 28 European countries who are members in Euroskills.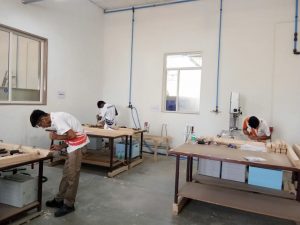 Inaugurating the Skill Competition, Dr. (Brig) Surjit Singh Pabla, president, BSDU said, "Euroskills competition will provide an excellent exposure to students so that they do well in upcoming bigger competitions like WorldSkills.  BSDU has provided training to all these students from different zoneswho have qualified from regional competitions and nurtured their skills with world's best machines available in BSDU.  Not only machines but also training them on safety guidance, educating them on marking schemes in such competitions. Students after this competition will be preparing for WorldSkills, which is the largest skill competition in the world which happens once every two years.  The competition is equivalent to Olympic Games for skills amongst the youth across the world.  Remarkable is that in the last WorldSkills competition at Abu Dhabi in 2017, India performed extraordinarily well, looking at which Euroskills has invited India to participate in this European contest as guest competitor."
Mr. Narendra Singh Rathore, principle School of Carpentry, BSDU, is chosen as Indian Expert in Joinery trade who was nominated by MSDE & NSDCand he will be joining students in Euroskills 2018.