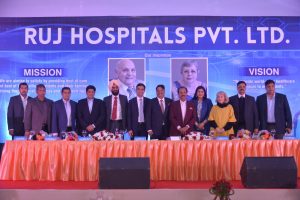 21st January, 2019; Jaipur
By 2022, healthcare market in India is expected to reach US$ 372 billion backed by strong demand of better healthcare services, rising awareness about healthcare, increasing acceptance of insurance and government's thrust to improve healthcare standards.
With an aim to provide quality healthcare services, Rajendra & Ursula Joshi Group are today announcing RUJ Hospitals Private Limited.  This will be a 150-bedded multi-super-specialty hospital which will provide best healthcare services with super specialties into Critical Care, CTVS, cardiology, neurosciences, oncology, gastroenterology, with a backup of nephrology, endocrinology, etc.  This hospital will be operational within 2 years.
Switzerland-based Scientist turned entrepreneur Dr. Rajendra Kumar Joshi and his wife Mrs. Ursula Joshi (RUJ Group) have set up an exemplary business module in Jaipur which comprises of skill training – meaningful employment making a self-sustainable business model with an aim to contribute maximum to community and economy.  This can be understood best with an ancient Chinese proverb, i.e., "Give a man a fish and you feed him for a day; teach a man to fish and you feed him for a lifetime."
Dr. Nalin Joshi, Managing Director, RUJ Hospitals Private Limited said, "It will deliver mainly to west zone of Jaipur which lacks multi super specialty services and care. We are also building it on the concept of Green Hospital Building"
Rajasthan accounts for high out-of-pocket expenses with about 75% of total expenditure of healthcare is borne by individuals and have to travel out to metro cities where they have to bear travel and stay expenses by themselves.
The Father of Modern Skill Development in India, Dr. Rajendra Kumar Joshi, Founder of RUJ Group said, "With Government of India focusing on "Health for all" as a national goal with healthcare in India facing serious issues in terms of competencies and content, we are trying to contribute to national goal by providing quality healthcare services with best of care and best of amenities.  This multi-super-specialty hospital will suffice one's need to travel to bigger cities of India for healthcare concerns.  We will try to make sure that an individual who is brought to the hospital in medical distress will be given world-class health service with the support of best equipments and best set of doctors available across the globe that will be incorporated in the hospital and with teams of Swiss experts blended with Indian experts who are known as the best in the world when it comes to healthcare services."
RUJ Hospitals will be the new face of Rajasthan healthcare industry.  The campus will be spread in more than 3.5 acres of land.  The hospital will comprise of different floors for critical care, CTVS, cardiology, neurosciences, oncology, gastroenterology, with a backup of nephrology, endocrinology, etc. RUJ Hospitals will have cross culture environment, state-of-the art treatment and high-quality healthcare. This institution has been envisioned with an aim of bringing to India the highest standards of medical care under the guiding principle of providing medical services to patients with care, compassion and commitment.