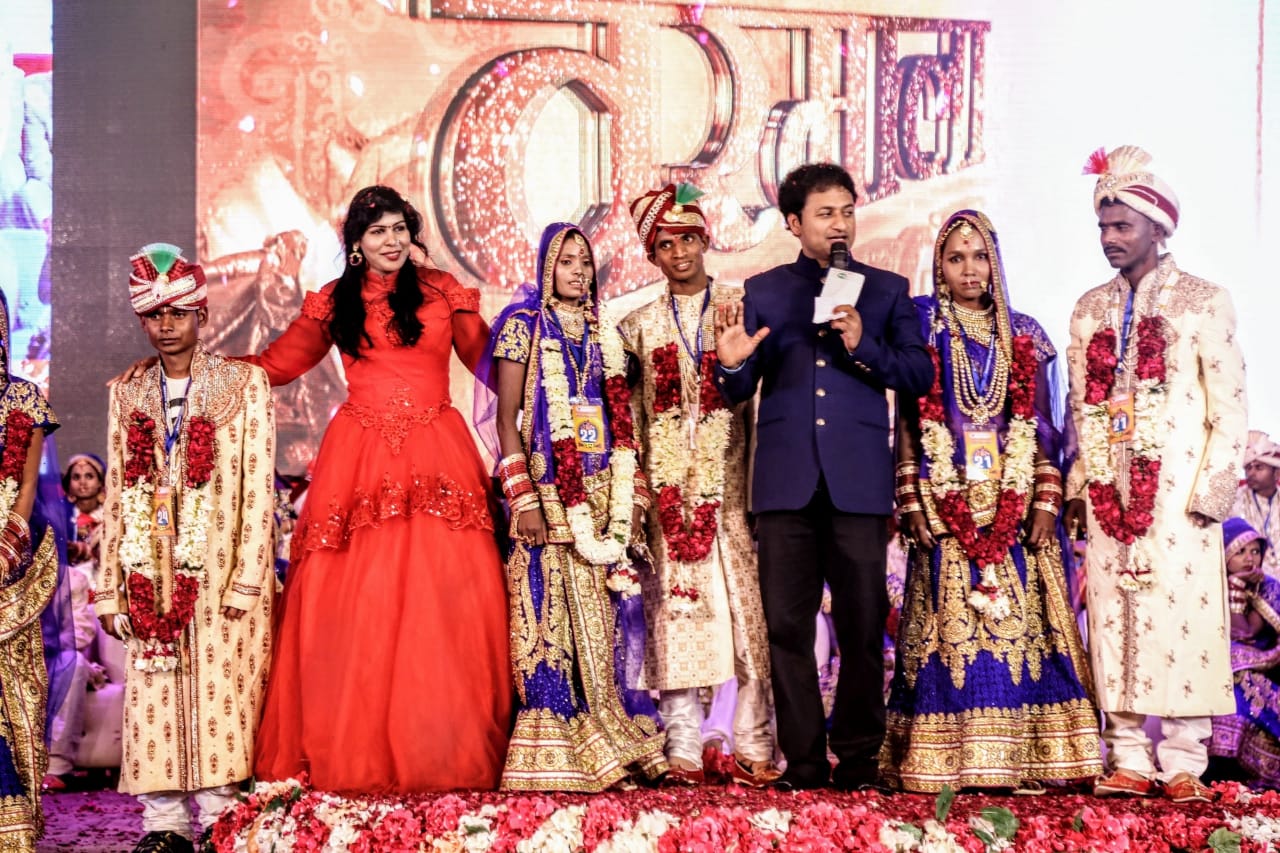 Jaipur, 5th March, 2019: Narayan Seva Sansthan (NSS) – a charitable organisation that runs hospital for surgeries on specially abled, particularly for those who are suffering from polio and by-birth disabilities. Narayan Seva Sansthan doubled the joy of marriage ceremony of 52 differently abled and economically destitute couples by hosted this once in a lifetime celebration for them.
Chosen from different states of the country by Narayan Seva Sansthan, these couples tied the knot in the two days'long gala ceremony .Narayan Seva Sansthan has organised over 30 such mass marriage programmes successfully and has helped over 1,300 couples to start new innings of their married life with household routine appliances and gifts in Kanya Daan. About 3000 family guests attended this mass marriage and gave blessings to these couples.
In the wedding ceremony, 52 Pandit pronounced mantras. Along with this, differently abled took the vow for Vedic mantras with each other throughout life. differently abled people considered God as their witness and received the blessings of their parents. To start these new couples with renewed life, all household goods were also provided. Apart from this, the accessories of the makeup were also provided to the bride. During this period, three Differently abled were given tricycle, nearly half a dozen ears of machine and calipers.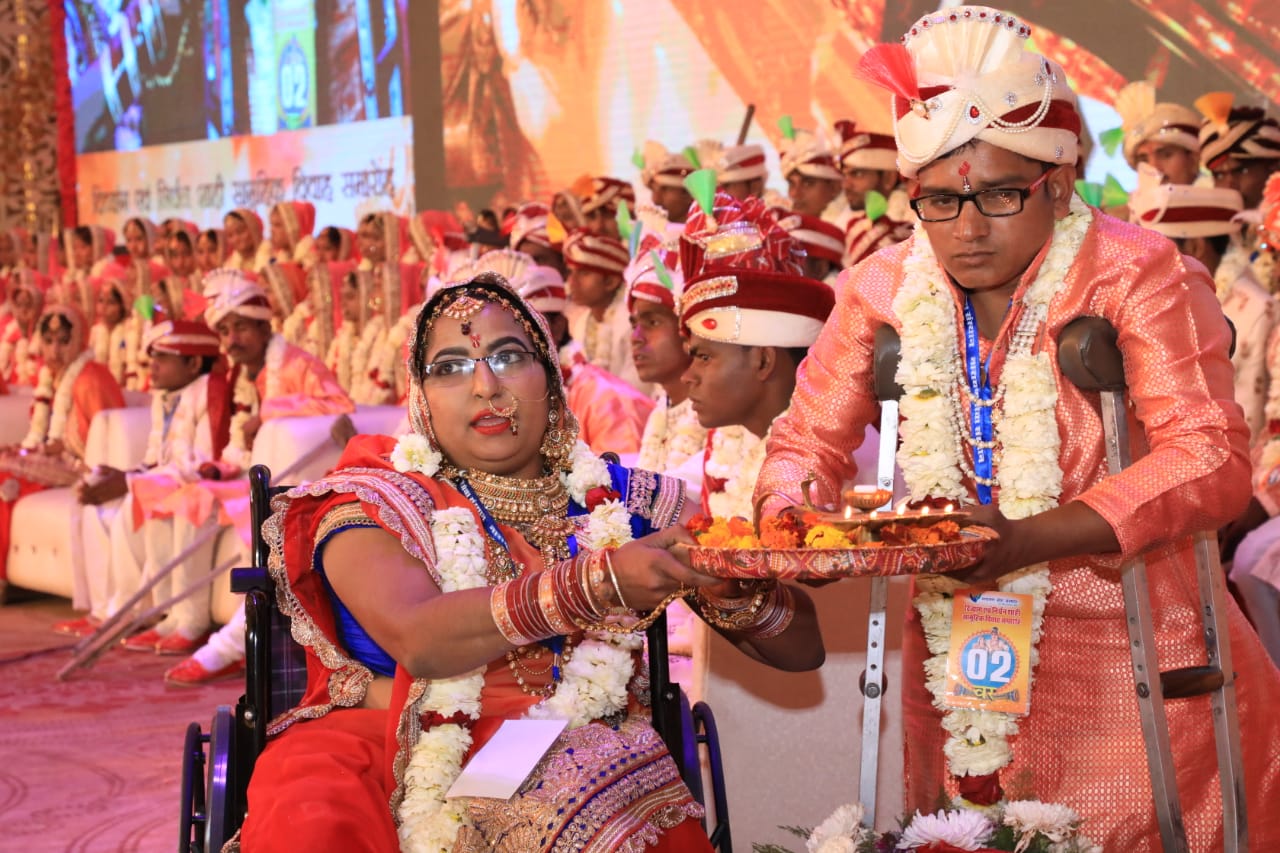 Mr. Prashant Agarwal, President, Narayan Seva Sansthan said, "Narayan Seva Sansthan is organizing DivyangVivah since last 18 years. Objective of all efforts of Narayan Seva Sansthan is to provide support to differently-abled and underprivileged individuals so that we can bring them in the mainstream of society. We are always working towards Divyang's needs and not just only support them with medical surgeries, education and skill development but also take care of their social needs like helping them to find a life partner, supporting them to set up their home and start the life."
A couple from Dhulia (Maharashtra), Jaya and Deepak are getting married under this extravaganza of mass marriage ceremony. Both of them came to Narayan Seva Sansthan where Jaya's family found Deepak could be the best life partner for her. They approached Narayan Seva Sansthan to help on arranging their marriage ceremony under '32nd Royal Mass Wedding of Specially Abled & Underprivileged Couples'. Jaya and Deepak also obtained skill development training from Narayan Seva Sansthan, which gave direction to their careers. Jaya got the job as a painting teacher in a School run by an NGO and Deepak has gained diploma in mobile repairs and is now planning to start his own venture.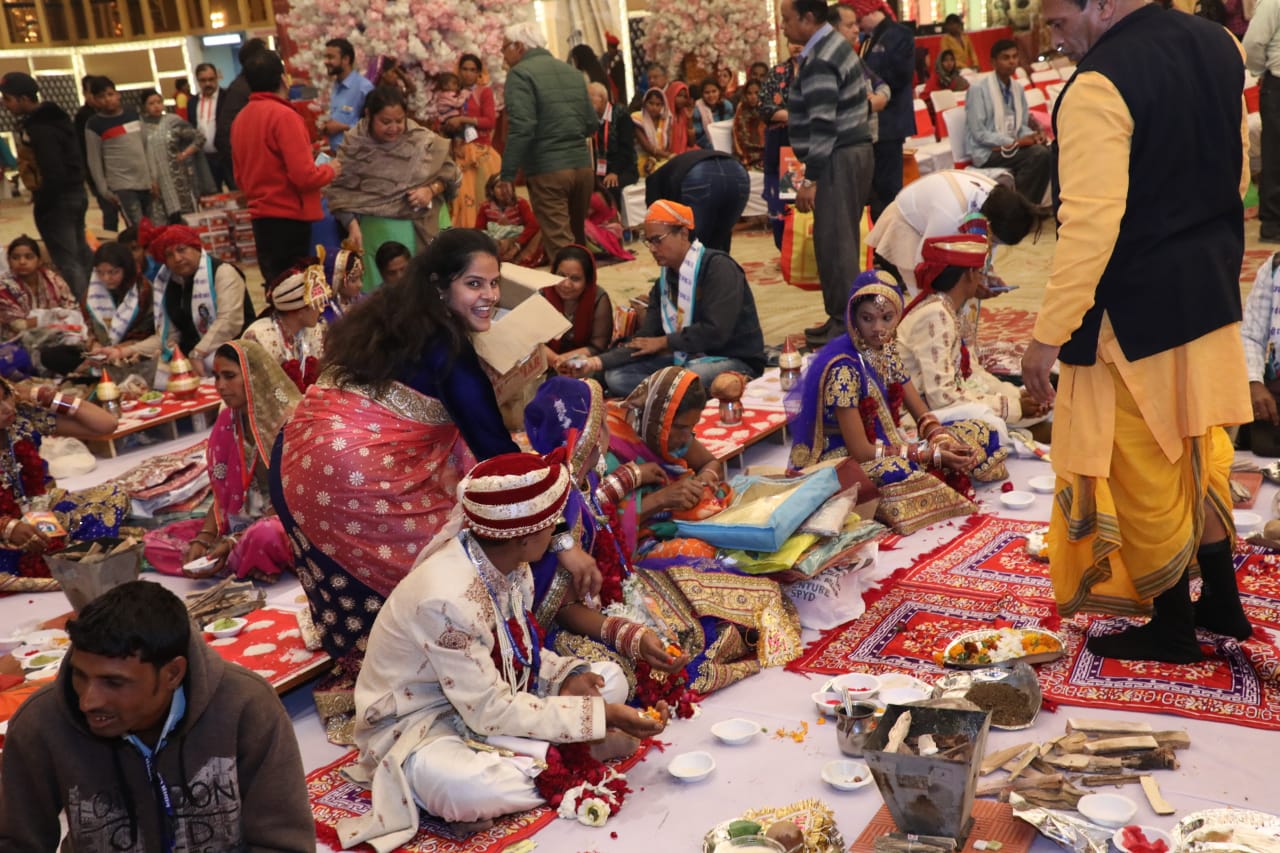 Narayan Seva Sansthan – Fact Sheet:
• 2 hospitals with a total of 17 buildings can accommodate 1100 beds in Udaipur, Rajasthan.
• Free Surgeries, medicines and food are provided to the patients and their families.
• Over 95 daily surgeries are performed by 125 doctors and nursing staff.
• Free of cost Physiotherapy, Calipers, Tricycle, Wheelchair, Crutches, Hearing Aids, Blind sticks and Modular Artificial Limbs are provided.
• Free installation of 25,000 calipers and about 11,000 modular artificial limbs every year with supporting Aids and Appliances are provided regularly.
• So far, the organisation has donated about 7.95 Lakh wheelchairs and about 2.59 Lakh Tricycles.
• Free nutrition rich food is provided for 5,000 patients and their attendants daily.
• Skill development to over 8,750 specially enabled individuals since 2011.
• Mobile repairing work started by 2,875 individuals after surgeries.
• Organisation has skilled 2830 people for Computer and Hardware Training.
• Fashion shows are regularly organised to showcase skills of talented differently able people.
• Ramp walk by differently able models treated at Narayan Seva Sansthan.
About Narayan Seva Sansthan
Narayan Seva Sansthan is a blessed heaven for the differently able and underprivileged individuals in the world. Founded by Padma Shri Kailash 'Manav' Agarwalin 1985, Narayan Seva Sansthan is a charitable organisation serving to bring the differently able community to the main stream society by empowering them physically, socially and economically. Situated at Badi Village near Lake City – Udaipur, Narayan Seva Sansthan is surrounded with the range of Aravali Hills right in the lap of nature.
Narayan Seva Sansthan is a 'Smart Campus for differently- Able' with all the facilities for the physically impaired humans who feel deprived in any way, at any stage of life. The Sansthan operates with its 480 branches in India and 86 branches abroad focusing on alleviating disabilities. As a daily practice, a free of cost vehicle reaches to pick-up the patients and their families at the Udaipur Railway Station further providing free accommodation and food at guest house.
Narayan Seva Sansthan is the hope for physically impaired patients suffering from Polio, Cerebral Palsy,and other by birth disabilities belonging from India, Afghanistan, Pakistan, Nepal, Bangladesh, Ukraine, UK and USA. Narayan Seva Sansthan has operated over 3.7 lakh patients in last 33years and has provided them a full socio-economic support by availing best of the medical services, medicines and technologies in free. This is a place where there is no cash counter for anything that anyone is in need of. It has 1100 bedded hospitals functioning with a team of 125 doctors and nursing staff, who are operating about 95 patients daily and servicing the humanity.