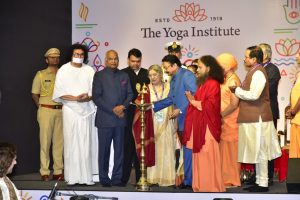 (Jaipur, 29 December 2018)The President of India, His Excellency Shri Ram Nath Kovind, paid glowing tribute to the World's oldest organized centre of Yoga, The Yoga Institute, Mumbai, as he inaugurated its centennial celebrations at India's Biggest Wellness Event attended by a galaxy of dignitaries in Mumbai today.
"Yoga is the soft power of the world, which can bring together people, communities and nations",President Kovind said. "Yoga is the most valuable gift that India has given to humanity and the world. "On the occasion of the 100th year celebration of The Yoga Institute,I wish this historic institution and everyone connected with it, all the best in their efforts to spread the goodness of Yoga for the benefit of the people."
President Kovindwas the Chief Guest at the Inaugural Ceremony of Centennial Celebrations, which was also graced by the First Lady. The ceremony was presided by Shri C Vidyasagar Rao, Hon'ble Governor of Maharasthra, and graced by Guests of Honour Shri DevendraFadnavis, Hon'ble Chief Minister of Maharashtra; Shri Shripad Naik, Hon'ble AYUSH Minister, Govt of India.  The ceremony was chaired by Dr. Smt.Hansaji J Yogendra, Director of The Yoga Institute. Other luminaries who graced the occasion included Shri VishwanathMahadeshwar, Hon'ble Mayor of Mumbai; Padma Shri Swami Bharat Bhushan, Founder, Mokshayatan International Yogashram; Padma Shri Dr. D R Karthikeyan, Former CBI Director; Swami ChidanandSaraswati, President ParmarthNiketan, and Shri Gaur Gopal Das of ISKCON. Star actor and presenter, KabirBedi anchored the ceremony.
Hon'ble Governor Shri C H Vidyasagar Rao also released Dr. Smt. HansajiJYogendra's book, Yoga For All, which has been 3 years in the writing, and is based on a hundred years of research by The Yoga Institute.
Hon'ble Chief Minister of Maharasthra Shri DevendraFadnavis said, "Harmony is a big strength of Yoga, which cleanses the body, mind and soul, and brings an individual closer to nature. I congratulate The Yoga Institute on completing 100 years and celebrating it with the Harmony Fest." He said his government would always support the laudable initiatives of The Yoga Institute.
Dr. Smt.Hansaji J Yogendra, Director of The Yoga Institute, said, "We are humbled and grateful that The Yoga Institute has completed 100 years of service to Householder Yoga, and has touched millions of lives in India and across the world. I am indeed grateful to the Hon'ble President of India Shri Ram Nath Kovind and the First Ladyand the other distinguished guests for having graced our big day with their august presence."
"The Yoga Institute's journey of a hundred years of transforming lives has been made possible thanks to the vision and efforts of three generations of yogis led by our  Founder, Yoga Guru Shri Yogendra ji, and the thousands of people who, over the past century, have been a part of the institute's family. Today, in our 101st year, we remain as committed to the service of householder. Yoga as we have always been, and to taking the vision of Yoga Guru Yogendra Ji into the next hundred years and beyond."
HARMONY FEST:The Yoga Institute is celebrating the momentous completion of 100 years with The Harmony Fest, – India's biggest wellness festival, which opened at 12 noon today and will continue till 9 pm tomorrow, Saturday, the 29th of December at MMRDA Grounds in BandraKurla Complex, Mumbai.
The Harmony Fest – 28-29 December 2018, MMRDA Grounds, BKC, Mumbai. 12 noon to 9 pm
The free and open-to-allHarmony Festwill offer a banquet of health and wellness  for thought, mind, body and soul, delivered through a music, entertainment and good food festival, a marketplace for sustainable goods and art  plus, of course, 20 hours of Yoga, panel discussions, workshops, mentorship and guidance talks, higher and novice learning programmes and much more.
Some highlights of Harmony Fest:
A Good Food Festival about healthy food with celebrities like Chef RanveerBrar, Chef Pankaj Bhadouria. It will include Food Trucks and Stalls, a Marketplace, a Farmers' Market, and more.
Expert guidance from Rujuta Diwekar, India's leading sports science and nutrition expert and amongst the world's most followed Nutritionists.
Talks and Panel discussions on Yoga with celebrated experts like Gaur Gopal Das, ChidanandjiSaraswati, Dr D R Kartikeyan, Dr Lokesh Muni, Dr ChInmaya Pandya, SadhviBhagwatiSaraswati, a YogTalk by Laxmi Narayan Tripathi, and others.
4 Yoga workshops: To help spread the word about Yoga for Householders:Bhavas Workshop,Asana Workshop, Women's Health Workshop, and Couples' Workshop
Meditation pods to relax and unwind
Harmony Stage will feature performances by Symphony Stage & Musical bands, with illustrious names like Shankar Mahadevan, Rekha Bhardwaj and bands and musical acts like Dharavi Reloaded, Indian Ocean,Prem Joshua,Flamenco Kathaaand Kabir Café.
The Yoga Institute, a non-profit organisation, was founded on 25th December, 1918, by Yoga Guru Shri Yogendrajiat Santacruz, Mumbai. Thanks to the efforts of three generations of Yogis led by Shri Yogendraji and including Mother Sita Devi, Dr. Jayadeva Yogendra and Dr. Hansajiji Yogendra, and Hrishi Jayadeva Yogendra, The Yoga Institute has contributed immensely to the holistic development of Yoga for the Householders.
In 2018, it received the Prime Minister's Award for outstanding contribution for promotion and development of Yoga, conferred by the Ministry of AYUSH. It is also India's first Yoga school to be certified by the Quality Council of India, Ministry of AYUSH.
The Yoga Institute has more than 500 publications to its credit, and Shri Yogendraji's books about Yoga are preserved in the oldest and the largestmillennial time capsulein the world, the Crypt of Civilization at Oglethorpe University, USA, to be opened in the year 8113 AD.
Dr.HansajiJayadeva Yogendra is the only woman Yoga guru to be invited by Hon. Prime Minister of India Shri Narendra Modi to share the stage at the first International Day of Yoga.
Every day, about 2000 personsvisitThe Yoga Institutefor trainingand health consultations. Over the years, the Yoga Institute has also certified more than 55,000 trained Yoga teachers who, in 120 countries, have been helping millions live better holistically healthy lives with the help of householder Yoga.