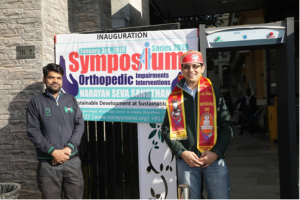 5 th  Jan 2019,Jaipur :Narayan Seva Sansthan – a charitable organization that runs charitable hospitals in the country for Specially-abled people, in particular people with polio and those who are disabled by birth, launches a Symposium Series 2019 in the country. As the first step of this initiative, Narayan Seva Sansthan organized today the visit of US-based Orthopedic Professional Dr. Nandan Shah. The symposium was chaired by Padma Shri Kailash Agarwal, Founder and Chairman, Narayan Seva Sansthan along with key influential doctors in Udaipur.
Under this unique initiative, NSS has planned various collaborations in different countries where health experts who have International Health Technology know-how will deliver exclusive sessions to bridge major gaps for sustainable advancement and sustainable cost. NGO intends to bring a tremendous impact on the healthcare services needed by underprivileged and especially differently abled.
Narayan Seva Sansthan is currently running an 1100-bedded hospital at its 'Smart Village for Differently Abled' located at Badi Village in Udaipur district. By providing international standard healthcare services at no cost, it aims to bring about a paradigm shift in the way differently abled are treated in the Asian countries. Along with this initiative, Narayan Seva Sansthan is also encouraging individuals and corporate donors to come forward for the cause.
Speaking on this occasion, Prashant Agarwal, President, Narayan Seva Sansthan said, "A good technological advancement is the one which is accessible and affordable by all those who need it, regardless of geographical or economic boundaries. The Government of India is also putting its efforts on universal coverage of healthcare services as per WHO guidelines and our initiative in the form of Symposium Series is a small contribution towards this global cause."
Under the Symposium Series, NSS now will be aggressively inviting many more Medical professionals, technological professionals, educators, researchers, interns, volunteers, and collaborators from around the world.
Narayan Seva Sansthan – Fact Sheet:
 •    2 hospitals with a total of 17 buildings accommodate 1100 beds in Udaipur, Rajasthan.•    Free Surgeries, medicines, and food for the patients and their families.•    Over 95 daily surgeries by 125 doctors and nursing staff.•    Free of cost Physiotherapy, Calipers, Tricycle, and Wheelchair, Crutches, Hearing Aids, Blind sticks and Modular Artificial Limbs.•    Free installation of 25000 calipers and about 11000 modular artificial limbs every year with supporting Aids and Appliances.•    So far, the organization has donated about 7.95 Lakh wheelchairs and about 2.59 Lakh Tricycles.•    Free nutrition rich food for 5000 patients and their attendants daily.•    Skilled over 8,750 specially enabled individuals since 2011.•    Mobile repairing work started by 2,875 individuals after surgeries.•    Skilled 2830 people by Computer and Hardware Training.•    Fashion shows organized to show the skills of talented differently able people.•    Ramp walk by differently able models treated at Narayan Seva Sansthan. 
About Narayan Seva Sansthan
Narayan Seva Sansthan is blessed heaven for the differently able and underprivileged individuals in the world. Founded by Padma Shri Kailash 'Manav' Agarwal in 1985, Narayan Seva Sansthan is a charitable organization serving to bring the differently able community to the mainstream society by empowering them physically, socially and economically. Situated at Badi Village near Lake City – Udaipur, Narayan Seva Sansthan is surrounded with the range of Aravali Hills right in the lap of nature.
Narayan Seva Sansthan is a 'Smart Campus for differently- Able' with all the facilities for the physically impaired humans who feel deprived in any way, at any stage of life. The Sansthan operates with its 480 branches in India and 86 branches abroad focusing on alleviating disabilities. As a daily practice, a free of cost vehicle reaches to pick-up the patients and their families at the Udaipur Railway Station further providing free accommodation and food at the guest house.
Narayan Seva Sansthan is the hope for physically impaired patients suffering from Polio, Cerebral Palsy, and other by birth disabilities belonging from India, Afghanistan, Pakistan, Nepal, Bangladesh, Ukraine, UK, and the USA. Narayan Seva Sansthan has operated over 3.7 lakh patients in last 33 years and has provided them full socio-economic support by availing best of the medical services, medicines and technologies in free. This is a place where there is no cash counter for anything that anyone is in need of. It has 1100 bedded hospitals functioning with a
The team of 125 doctors and nursing staff, who are operating about 95 patients daily and servicing humanity.