Xiangyang, September 24, 2018: The race went down to the wire and Team Amaravati pushed the limits and came out trumps at UIM F1H2O World championship – Agile Grand Prix of Xiangyang, China. Team Amaravati made a stunning debut at the BRM qualifications round on 22nd September, with the lead & fastest driver Jonas Andersson. The main race held on 23rd September with 39 laps saw Andersson clinching the fourth spot, missing the podium finish by a whisker to Team Abu Dhabi. Team head and driver Jonas Andersson and partner Erik Edin have put up an admirable performance and are all set to heat up the competition, with the next instalment taking place in River Krishna from 16th to 18th of November.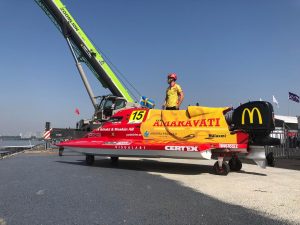 Post China Grand Prix, the competition will move to India for the first time after a gap of 14 years. Teams are formulating intense strategies to perform at the Indian battle and showcase their talent for Indian viewers. The Indian edition of F1H2O Motorboat Racing is organized in association with India Extreme Adventure Activities Private Limited and Andhra Pradesh Tourism Department.
Team Abu Dhabi's Shaun Torrente produced a great performance today and got the triumphant run. He was able to regulate the 39-lap race on the Han River from all over to take his sixth career victory at UIM.
Second place went to THANI AL Qemzi (Team Abu Dhabi) with Erik Stark (Team Amaravati) in third.
Point Table:
About India Extreme Adventure Activities (Malaxmi Group)
India Xtreme Adventure Activities Private Limited is Vijayawada based sporting entity established in the year 2018. The organization aims at conducting engaging sporting activities that nurture the spirit of outdoor enthusiasm in people across the country. India Extreme aspires to connect the missing dots, bringing back the true quintessence of wellbeing. F1H2O will be the pilot initiative coming from the organization, to jumpstart the spirit of sporting in the Sunrise State of Andhra Pradesh and India. Other areas of sporting apart from water sports include mountain biking, paragliding, trekking, bungee jumping, glacier climbing, dirt biking, skiing, rock climbing, desert camping etc.