Pune, September 24, 2018: Volkswagen Group Sales India today announced its new Regional Distribution Centre (RDC) in Chakan, Pune.  Spread over an area of 25,000 sq. m. in the premises of Volkswagen Pune Plant, this is an important milestone for the company in India in its plan to emerge as a stronger player in the country. The RDC is a state-of-the-art facility which has been designed in co-operation with Volkswagen AG worldwide. It is compliant to the latest and highest global standards of Volkswagen.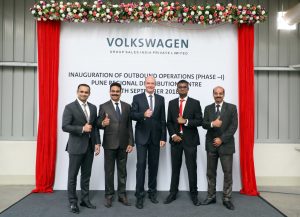 The Regional distribution centre in Chakan, Pune was inaugurated by Mr. Justin Nolte, Director Group After Sales & Vehicle Logistics. Present at the inauguration were Mr. Pavan Shetty, Mr. P Ravichandran and other senior officials of Volkswagen Group.
During the first phase of its operation, RDC, Chakan will manage Volkswagen India's export business across the world. The phase two of the operation, which starts from early next year will see it also servicing Volkswagen Group India dealerships across western part of India with one-day delivery of high quality genuine parts, ultimately ensuring higher customer satisfaction. This RDC will also be supplying parts to its parts distribution centres (PDC) located in north and south of India.
Speaking on this occasion, Mr. Nolte said, "This newly opened RDC in Maharashtra is an integral part of the network strategy under 'Depot Network Development Project'. It is the third warehouse in India after having PDCs in Bangalore and NCR area. This centre will provide spare parts for all models available in India under the Volkswagen family starting from Volkswagen, Skoda, Audi, Porsche and Lamborghini. There is a positive customer sentiment re-emerging in the market and we pledge to provide our dealers and buyers with the best of our products and services. This inauguration today is a testament to our existing and potential customers in India. Our relationship with our customers will only strengthen from hereon"
With its strategic location, the RDC in Chakan, Pune will significantly contribute in reducing current lead-time in providing genuine parts to the dealers across the states of Maharashtra, Gujarat, Rajasthan and Madhya Pradesh. This is aimed to improve Volkswagen Group after sales service offering, investing in creating world-class infrastructure and striving to remain a step ahead of the customers' requirement by anticipating and offering them genuine parts by making it readily available.
About Volkswagen Group India: The Volkswagen Group is represented by five passenger car brands in India: Audi, Lamborghini, Porsche, ŠKODA, and Volkswagen. The Volkswagen Group has been present in India for the last 15 years and began its India journey with the entry of the ŠKODA brand in 2001. The Audi brand and Volkswagen brand entered India in 2007, while Porsche brand and Lamborghini brand followed in 2012. Each brand has its own character and operates as an independent entity in the market. Volkswagen Group India has about 30 models in India about 240 dealerships and is operating two plants – Pune and Aurangabad. The Pune Plant has a manufacturing capacity of 200,000 cars per year (maximum in three-shift system) and is currently manufacturing Volkswagen Polo, Ameo and Vento and ŠKODA Rapid. The Aurangabad Plant assembles various premium and luxury models of Audi, ŠKODA and Volkswagen sold in India and has an annual maximum capacity of approximately 89,000. Volkswagen Group India is a part of Volkswagen AG, which is globally represented by 13 brands – Audi, Bentley, Bugatti, Ducati, Lamborghini, Porsche, Scania, SEAT, ŠKODA, Volkswagen Commercial Vehicles, MAN, Volkswagen Passenger Cars and MOIA.