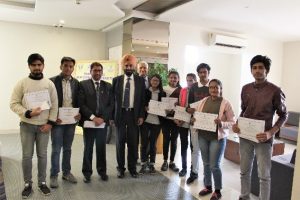 Jaipur, 24thDec, 2018:
BSDU in line with making society aware about exciting new careers with latest skill courses in different trades, university is also creating social awareness in various domains. The National Commission for Women, Government of India launched second nationwide competition ensuring that all sections of society are fully conversant with the law and contribute effectively for their successful implementation. In adherence to the same, Bhartiya Skill Development University's School of General Education conducted a competition for all the students of the University on the
Legal Rights of Women.
BSDU is a unique skill development university which is making unparalleled efforts in bringing excellence to skill development Industry in India by providing an apt environment with various industry tie-ups, quality infrastructure, and well-designed curriculum to make students skilled enough to be fit for their respective jobs in various industries or start their own businesses by training them to be ready to compete at international levels.
Dr. (Brig.) Surjit Singh Pabla, President BSDU, said, "The whole idea of arranging this competition was to makeour girls aware about their rights in different walks of life.  I congratulate school of General Education who have initiated this activity as these are some of the most important rights that women should know about since it is with lack of knowledge that deprives women a well-deserved justice.  Girls from diverse backgrounds are now taking active participation in pursuing their career goals through different skill courses offered by university.  Remarkable to note is that most of the skill courses that were considered to be male dominant are now having good number of females which makes education about different laws regarding sexual harassment at workplace, right to privacy, zero FIR, domestic violence critical."
Different faculty heads shared their views on women rights shedding light on common situations which are normally avoided by women.  Top 9 students were awarded certificates and cash prizes by Vice Chancellor, Dr. Pabla.The names of the winners are Monika Sarodia, Bimla Jat, Mohit Kalal, Anurag Shekhawat, Surbhi Pareek, Ashwani Dhankar, Vikash Kumar Naga, Md. Noor Islam and Ruchika Gupta.